NEOM and Volocopter, Inc., announced their partnership to establish a company to design, implement and operate the first on-demand public vertical navigation system in NEOM. The joint venture will integrate air taxi and logistics services with NEOM's multimodal, emission-free public transportation system. The new company will be the sole operator of the primary public transport routes in NEOM and will enable the eVTOL system for electric landing and take-off services and provide vertical mobility services including logistics, emergency transportation, and tourism. NEOM confirmed that it has ordered 15 Volocopters to start initial flight operations within two to three years.
On this occasion, NEOM CEO, Eng. Nadhmi Al-Nasr, said: "Mobility is one of the main pillars that are considered when designing cities and urban infrastructure for the twenty-first century. Through this joint project with Volocopter, we will prove to the world that NEOM is the ideal region for implementing mobility projects. "Neom's mission is to become a living global laboratory for the mobility of the future, and we are very excited to see what the future holds as we grow."
Florian Lennert, Head of Mobility at NEOM, said: "We are very excited and proud of this partnership with Volocopter to launch vertical mobility journeys on the ground in NEOM. Volocopter is a global leader in innovation and specialist in the eVTOL industry in the electric mobility sector. This partnership represents the most appropriate option to achieve our ambitious goals of creating the world's first seamless, integrated and sustainable public transport system. Volocopter's expertise, experience, and vision will give us the opportunity to lead the sector in the design and implementation of electric vertical mobility services. I look forward to making a leap and joint progress in the mobility sector."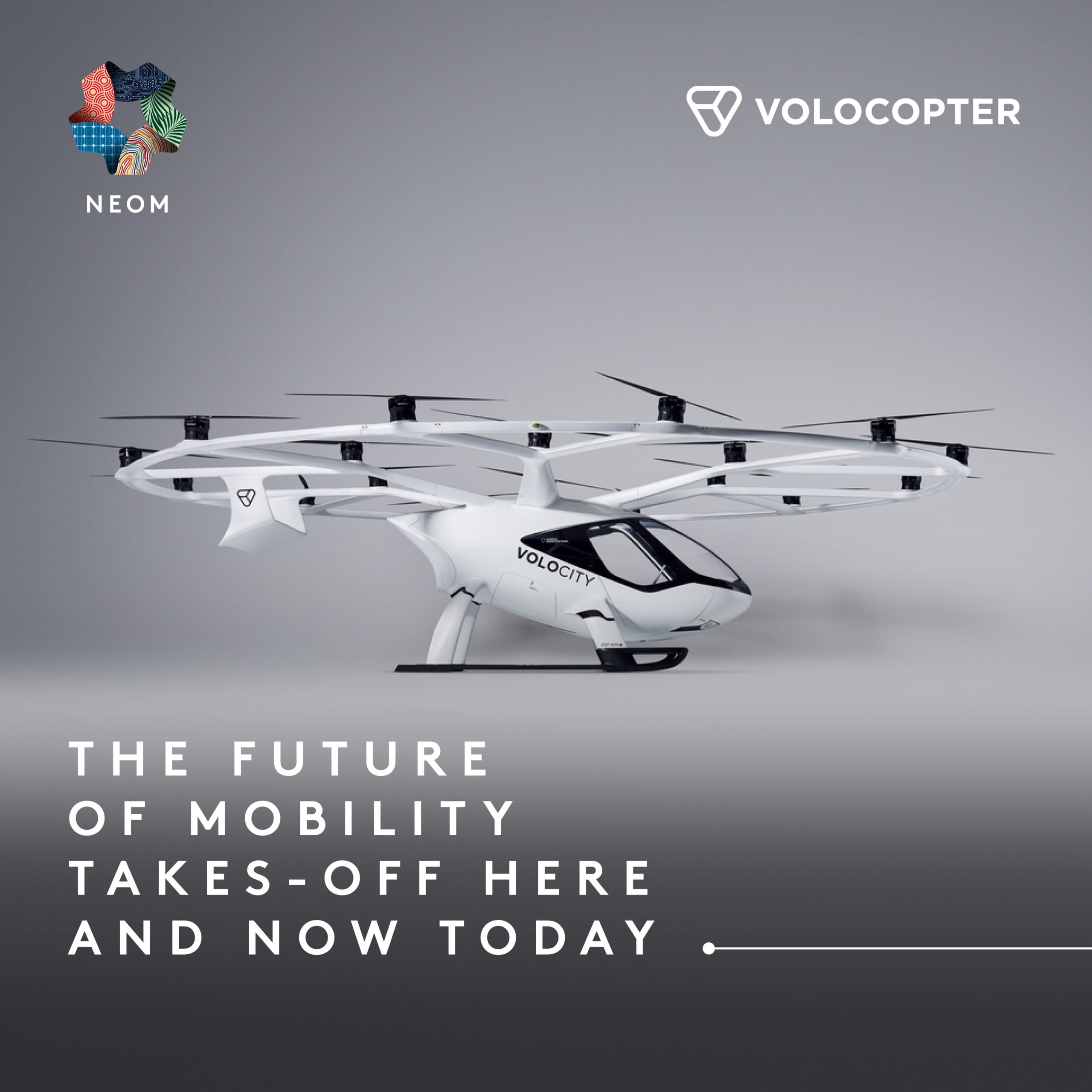 The joint collaboration between NEOM and Volocopter, the leader in urban air mobility, will culminate in the design and development of a fully three-dimensional public transport system, and the development of technical, organizational, and infrastructure solutions for the eVTOL system for electric vertical mobility services throughout NEOM. The joint venture will provide vertical mobility services as an integral part of the multimodal public transport system in NEOM, with zero emissions, and provide a seamless network for travelers and goods.
VoloCity and NEOM have agreed to an initial order of 10 VoloCity passenger aircraft and 5 VoloDrone logistics aircraft to support early operations of flight operations. The joint venture is expected to start expanding its activities at the beginning of 2022 AD, to embrace the urban air mobility (UAM) movement in the region and to create an ecosystem for vertical mobility. This partnership embodies NEOM's mission to be a living laboratory for future mobility and a center of excellence in innovation and industry for vertical electric mobility services.
Commenting on the new partnership, Christian Boyer, Volocopter Chief Commercial Officer, said: "We are excited about this partnership with NEOM through the new partnership that we have created together. This is an opportunity that will not be repeated as we will be an integral part in the design and operation of a completely new ecosystem from the ground up for services Urban Air Mobility. As a leading company in this sector, we at Volocopter are proud to be the trusted partner to realize the ambitious vision of NEOM."
Vertical mobility services represent a vital element in achieving NEOM's vision for the mobility sector, enabling the transportation of people and goods with the optimal use of infrastructure. Vertical mobility services will be the hub of linking the urban city of The Line, the industrial city of Oaxagon, and other regional destinations, which take into account NEOM's vision of preserving nature through the optimal use of land and the development of advanced infrastructure.
NEOM is working to implement the first sustainable, seamlessly connected mobility system that runs on 100% renewable energy and zero vehicle emissions levels across all urban and regional modes of mobility. NEOM will reshape the future of the mobility sector through the tight integration of advanced smart infrastructure and advanced transportation systems with efficient, shared, and automated mobility solutions, to change the concept of car-centric cities. Working with a group of innovation partners, NEOM will launch shared electric mobility services, autonomous reciprocating vehicles, electric boats, and drones for delivery services, as well as solar-powered mobility centers.