Nazmi Al-Nasr, the CEO of the NEOM project, had met with 160 ambassadors and diplomats while attending beach sports events held recently in the Gulf of NEOM.
During the meeting, Al-Nasr affirmed that the second phase of the strategy for the "NEOM" project will be achieved by the end of 2019. The project will target 1 million residents and 5 million tourists by 2030.
Al-Nasr demonstrated that the actual development of the project is proceeding with the construction of more infrastructure, such as NEOM Bay Airport, living units and administrative offices, all of which will help launch the construction work in the Bay of NEOM, which is moving forward.
The second phase of the strategy will include the release of the details of the 16 economic sectors covered and the areas of NEOM.
Tourism will be one of the 16 economic sectors, so our new city aims to be an important tourist destination that will attract 5 million tourists by 2030. To achieve this goal, many mountain resorts – or islands – will be developed to take benefit of the natural beaches and mild atmosphere of NEOM.
Attracting this number of tourists will be a great challenge. "Some say this will be a long and difficult throw for us, but our job is to deal with the long and difficult throws," he said.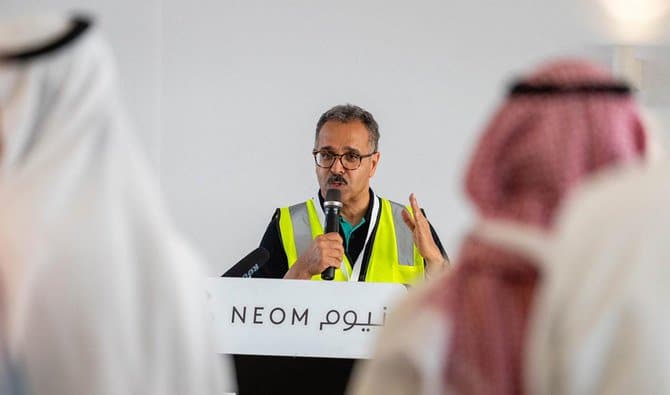 Al-Nasr said that Rome is about 3 hours away from NEOM, London is only about 5 hours away and NEOM is in a strategic area where about 70% of the world's population can reach within 8 hours at most
"One of NEOM's business goals is to be home to the new technologies that will impact the next wave of industrialization. To launch this improvement, we will fund technology development and we will partner with technical partners in the world," Nazmi said.
Al-Nasr said that NEOM was in talks with many investors from different countries even during this initial stage of the project's life, and the search for chances for partnership with many of the world's trading partners was still underway. "We started the day … but we will not finish it. There is no end to the day. "
"We want you to think about living in New York someday, or working and retiring here, and of course we are not reluctant to invest here," he said.
"Day after day, work is underway to transform this land into reality with the construction of a lot of infrastructure on the ground that will support the launch of the development of the first populated area in the project, the Bay of NEOM."