His Royal Highness Mohammed bin Salman, Crown Prince and Chairman of the NEOM Company Board of Directors, today announced THE LINE, a revolution in urban living at NEOM, and a blueprint for how people and the planet can co-exist in harmony.
THE LINE, a 170km belt of hyper-connected future communities, without cars and roads and built around nature, is a direct response to some of the most pressing challenges facing humanity today such as legacy infrastructure, pollution, traffic, and human congestion.
THE LINE design
His Royal Highness Mohammed bin Salman, Crown Prince and Chairman of the NEOM Board of Directors, on 25 July announced the designs of THE LINE, a civilizational revolution that puts humans first, providing an unprecedented urban living experience.
A cornerstone of Saudi Vision 2030 and an economic engine for the Kingdom, it will drive diversification and aims to contribute 380,000 jobs in the future and SAR180 billion (USD48 bn) to domestic GDP by 2030.
His Royal Highness said: "Throughout history, cities were built to protect their citizens. After the Industrial Revolution, cities prioritized machines, cars, and factories over people.
In cities that are viewed as the world's most advanced, people spend years of their lives commuting. By 2050, commute durations will double. By 2050, one billion people will have to relocate due to rising CO2 emissions and sea levels. 90% of people breathe polluted air.
Why should we sacrifice nature for the sake of development?
Why should seven million people die every year because of pollution?
Why should we lose one million people every
year due to traffic accidents?
why should we accept wasting years of our lives commuting?"
"Therefore, we need to transform the concept of a conventional city into that of a futuristic one," His Royal Highness added. "Today, as the Chairman of the Board of Directors of NEOM, I present to you THE LINE.
A city of a million residents with a length of 170 km that preserves 95% of nature within NEOM, with zero cars, zero streets, and zero carbon emissions."

THE LINE is the first time in 150 years that a major urban development has been designed around people, not roads. Walkability will define life on THE LINE – all essential daily services, such as schools, medical clinics, leisure facilities, as well as green spaces, will be within a five-minute walk.
Ultra-high-speed transit and autonomous mobility solutions will make travel easier and give residents the opportunity to reclaim time to spend on health and wellbeing. It is expected no journey will be longer than
20 minutes.
THE LINE's communities will be cognitive, powered by Artificial Intelligence (AI), continuously learning predictive ways to make life easier, creating time for both residents and businesses. An estimated 90% of available data will be harnessed to enhance infrastructure capabilities far beyond the 1% typically utilized in existing smart cities.
Redefining sustainability, THE LINE will comprise carbon-positive urban developments powered by 100% clean energy, providing pollution-free, healthier, and more sustainable environments for residents. Mixed-use
communities will be built around nature, instead of over it.
LAUNCH ANNOUNCEMENT of The line
NEOM's sectors of the future, headed by global industry leaders, are already addressing some of the world's most pressing challenges. They are pioneering a new marketplace for breakthrough innovations and creating opportunities to attract talent, investors, and partners to become part of its business ecosystem.
Construction of THE LINE will commence in Q1 of 2021. THE LINE is one of the most complex and challenging infrastructure projects in the world and forms part of extensive development work already
underway at NEOM.
NEOM is part of the world-class, diversified portfolio of Saudi Arabia's Public Investment Fund, one of the largest sovereign wealth funds in the world.
The line location
THE LINE is located in NEOM, linking the coast of the Red Sea with the mountains and upper valleys of northwest Saudi Arabia. The location is at the crossroads of the world, making it a natural choice for a global innovation hub. More than 40% of the global population will be able to reach NEOM's breathtaking terrain in less than a four-hour flight, while 13% of the world's trade already flows through the Red Sea.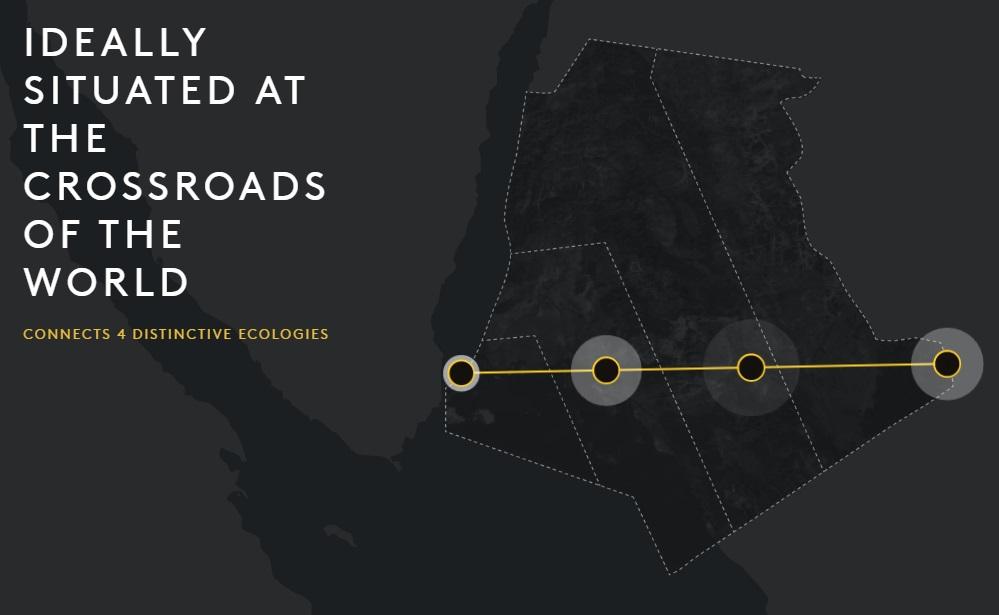 WHAT IS THE ENVIRONMENTAL IMPACT OF A PROJECT OF THIS SIZE AND SCALE?
The majority of NEOM land will be preserved to enhance livability for residents and environmental protection. The design of THE LINE provides a seamless way of living in harmony with nature. During development, strict environmental controls are in place to preserve NEOM's natural environment and rich heritage.
No construction activity is possible unless it has met stringent international sustainability criteria, which have been built around the standards expected for a Circular Carbon Economy. While caring for the environment is a guiding principle, the plan allows NEOM to accomplish this without compromising its ability to attract business and entrepreneurs to the region.
HOW CAN YOU CREATE A CITY WITHOUT ROADS AND CARS?
The project highlights NEOM's never-before-seen approach to 21st-century urban design. People and nature will reclaim the space once occupied by cars and congested roads through infrastructure that works in harmony with the environment, creating vistas of beauty and tranquility.
Communities will be powered by various types of renewable energy, allowing industry back into the heart of communities and creating an environment free from pollution. This pedestrian-first approach ensures the communities are built around people, not cars, easily accessible, and designed for convenience and walkability.
Essential services and amenities will be accessible within a five-minute walk. Infrastructure and support services – including transportation, utilities, digital infrastructure, and logistics – will be seamlessly integrated into dedicated spaces running in an invisible layer along THE LINE. High-speed transportation will make long commutes a thing of the past, making life simple and stress-free.
HOW WILL THE LINE ENABLE ADVANCED INDUSTRY AND THE FUTURE OF BUSINESS TO DEVELOP?
THE LINE will power NEOM as it becomes a hub for innovation where global business and emerging players can research, incubate, and commercialize groundbreaking technologies to accelerate human progress.
By integrating commerce and industry into the heart of future communities, THE LINE will help reimagine supply chains and facilitate new and better ways of working. It will foster innovation and empower entrepreneurs.
THE LINE utilizes human-centric design, advanced infrastructure and manufacturing, and cutting-edge technology to solve the world's greatest challenges. It will reshape industries such as mobility, clean energy, AI, and robotics, with a focus on the environment and sustainability.