Saudi NEOM announced the conclusion of contracts related to the construction, financing, operation and development of the first residential complexes of the residential area, which was designed to accommodate 30 thousand people who will move to NEOM during the coming period to build the different areas of the project.
The construction work was initiated in the presence of Neom CEO Eng. Nazmi Al Nasr and the heads of the two winners of the project, Tariq Al Tamimi, Chairman of Al Tamimi Group, and Malek Entebi, Chairman and CEO of SATCO, in a 10-year operating contract.
This rapid succession comes in the concern of the company to provide an investment opportunity acquired by the two companies, as the contract will provide a ten-year operating period, at a time when these contracts are the first investment opportunities offered by NEOM.
The CEO of NEOM emphasised on the companies developing the project by concentrating on local content and increasing the number of inputs and products made in Saudi Arabia in support of the local economy, in line with Saudi Arabia's intention to increase the proportion of local content in major projects.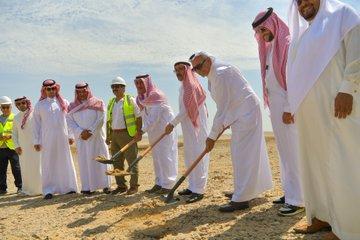 Al-Nasr called on companies to generate jobs for the people of NEOM, guaranteeing at the same time to support these companies in all possible measures to achieve the goal of human development, offering companies facilities to enable them to establish their industrial facilities on the land of NEOM as needed by the nature of their work.
The residential area consists of several complexes, where «Tamimi Group» obtained contracts to build two residential complexes, each with a capacity of 10,000 workers, while SATCO will build a similar complex with the same capacity.
The residential area will offer workers a lifestyle aimed at creating a healthy work environment for them in line with NEOM's intentions and global best practices.
It is worth stating that the residential area of ​​labour has an area that allows the addition of more complexes in the future according to the needs of the project to accommodate the flow of more labour to it, which in the later stages can reach more than 100,000 workers.
NEOM is the most ambitious project in the world, being developed on an area of ​​26.5 thousand square kilometres in the north-west of the Kingdom. The project will be one of the pillars of the Kingdom's economic transformation within Vision 2030 to provide diversified sources of income through the economic sectors and real estate investments.